Contact Ryanair customer services on their standard-rate call centre contact number 0330 100 7838 for check-in enquiries, to make a complaint and to book a flight ticket over the phone.
Customer services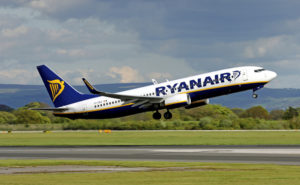 Phone 0330 100 7838 to contact Ryanair customer care with enquiries about an existing flight booking, where you can change your seat number so that you are sat nearer someone you are travelling with and to modify an incorrectly spelled name on your ticket.
Moreover you can call this helpline to confirm when check-in closes and for technical support when using their corresponding online service to save you time. Similarly you can phone this number to enquire about their baggage weight and size limits, where you can also request an extra hold bag so that you can transport all your luggage. If your items have been delayed you may call their customer service staff to get an update on how long it will take to reach your destination. A further reason for calling this helpline is to track a flight which is useful for planning your journey and to check the progress of a loved one.
Phoning the Ryanair UK contact number 0330 100 7838 will cost you the same as calling local area code phone numbers which are prefixed by 01 or 02 digits, therefore you will pay a per-minute fee on top of an access charge. Free inclusive minutes which may form part of your landline or mobile tariff can be used to phone Ryanair for free so check with your provider for confirmation of all your call costs. Lines are open 9am-7pm Monday-Friday, 9am-6pm Saturday and 10am-6pm Sunday; please note that your enquiries will be dealt with faster if you have your Ryanair booking number in front of you when you call them.
Complaints – 0330 100 7838
Contact Ryanair to make a complaint by phoning their customer service phone number 0330 100 7838 where you can seek compensation for a delayed flight, damaged luggage and rude conduct of a member of their staff. You should also complain if your baggage was delayed severely and you believe that you weren't kept informed of how long it would take your belongings to reach you. If you would prefer to make your complaints in writing you can send your letters to their head office in Ireland using the address below, however please note to affix the correct international postage so that it reaches them.
Ryanair DAC – Complaints,
Dublin Office,
Airside Business Park,
Swords,
Co. Dublin,
Ireland.
Book a ticket with Ryanair – 0871 246 0000
Phone Ryanair to make a flight reservation by calling their UK ticket contact number 0871 246 0000 (13p/min + access charge) where you can also get their current timetable from your desired airport. You should have the key details in front of you when you book so that you don't make a mistake, these include passport numbers, full passenger names and the dates when you are going on holiday. Furthermore you can call this helpline for their latest special offers and to pay for your flight using their air miles scheme. Calls to the Ryanair booking helpline 0871 246 0000 are charged at 13p per minute plus your phone company's access charge which may be especially costly if calling from a mobile.
Business Plus enquiries – 0330 100 6996
Phone Ryanair on their dedicated Business Plus contact number 0330 100 6996 to upgrade your ticket by adding priority boarding, free extra luggage and even flexibility on when you make your flight. You should call this helpline if you make regular business flights as you may be eligible for discounts when you next travel, similarly if you are a nominated representative at your company you may phone this number to book flights for your staff.
Ryanair phone numbers – all at once
| Ryanair department | UK contact number |
| --- | --- |
| Customer services & complaints | 0330 100 7838 |
| Book a ticket with Ryanair (13p/min + access charge) | 0871 246 0000 |
| Business Plus enquiries | 0330 100 6996 |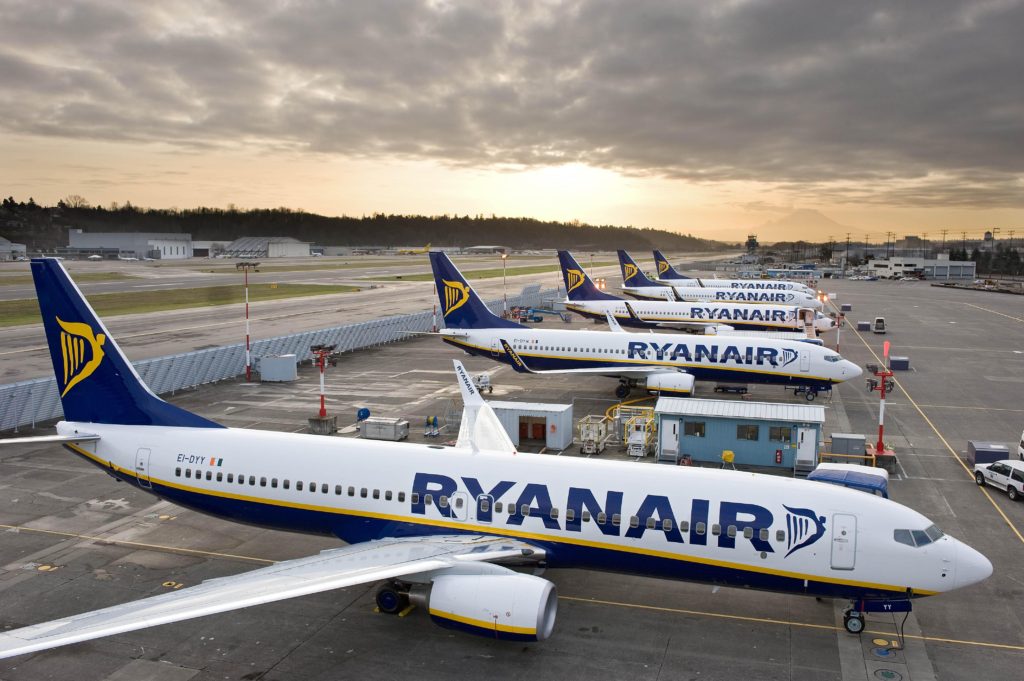 Alternative ways to contact Ryaniar
Ryanair recognise that modern technology offers a way for their customers to book flights without having to resort to being sat on hold for ages, therefore you can contact them via online contact forms and official social media profiles. However if you still prefer making your general enquiries in physical writing you can do so by use of their postal address.
Write to Ryanair
You can send your general enquiries and feedback to Ryanair by writing a letter directly to their head office postal address located in Ireland:
Ryanair DAC – Customer services,
Dublin Office,
Airside Business Park,
Swords,
Co. Dublin,
Ireland.
Contact Ryanair by email
To contact Ryanair by email you should go to their "contact us" website where you can find a host of online contact forms by selecting the appropriate option from the drop-down menus. You can also use this service to download claims forms in the event that either your flight or your bags were delayed.
Reach Ryanair via social media
You can also contact Ryanair customer service staff by messaging their company profile pages on popular social media websites, where you may also be able to find special promotional ticket prices as well as helpful tips to help you through the airport faster.
Check out Ryanair's Facebook timeline

Send a Tweet to the Ryanair customer helpdesk on Twitter

Add Ryanair to your circles on Google+

Watch helpful & promotional videos on the Ryanair YouTube channel

Find out more about the Ryanair company on the LinkedIn page