Phone Three Mobile customer services by dialling their UK landline contact number 0333 338 1001 for technical support for your smartphone device and to check network signal in your area.
Customer services – 0333 338 1001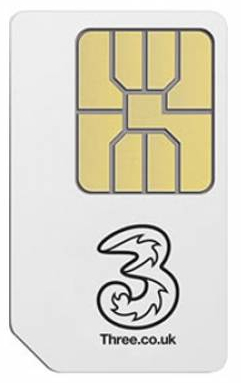 Contact Three customer services by dialling their national phone number for technical support with your mobile device, to top up your pay as you go credit and to update your account details when you move home. Alternatively if you are on your 3 mobile handset you can simply dial 333 to connect you to their customer care help-desk for free.
Moreover if you would like to change the texts, calls and data tariff you are on you can phone this number to switch to a different package, however please note that you may have to pay an early cancellation fee if you cancel a fixed-length contract. Furthermore if you believe that you have been overcharged on your monthly bill you can phone this helpline to apply for a full refund, however it is important to check how much you are spending on calls to costly premium numbers.
Calls to the Three customer service helpline 0333 338 1001 are charged at national UK rates, which means you will pay them a per-call fee as well as a rate which depends on how long the call lasts. Please note if you have free inclusive minutes on your 3 tariff you will be able to effectively call them for free as these minutes can be used to phone all 0333 numbers. You can call Three between 8am-8pm Monday-Friday and 9am-6pm Saturday-Sunday although there may be closures on UK public holidays.
Contact Three customer services from overseas: +44 7782 333 333
To contact Three from outside the United Kingdom you need to dial their international telephone number +44 7782 333 333, however please be aware that unless you have a roaming phone plan you will have to pay more to make the call compared to making an equivalent call from within the UK. Exact rates will vary depending on which country you phone 3 from and generally calls from landlines will be cheaper.
Mobile broadband – 0333 338 1003
Phone Three to discuss your mobile broadband contract by calling their UK contact number 0333 338 1003 where you can also get troubleshooting advice for signal connectivity issues with your dongle, MiFi network or tablet. You can also call this helpline to upgrade your package by increasing available download speed and data allowance. Furthermore you can dial this number to purchase portable devices to help you connect to the internet when travelling by car or for internet connection whilst on the UK train network.
Join Three – 0800 033 8001
Get in touch with Three for free by calling their freephone contact number 0800 033 8001 to purchase a new smartphone handset, to track an existing order and to receive a pay as you go SIM card. You can also phone this number to get the latest sales prices and promotional contract rates so that you can identify the best deal for your mobile usage. If you are already a Three customer you can also phone this number to upgrade your existing handset to the latest iPhone or Android handset.
Head office & complaints – 01628 765 000
Contact Three to make a complaint by calling their head office phone number 01628 765 000 directly where you can voice your dissatisfaction about an overcharged mobile phone bill or the rude condut of a member of their in-store customer service staff. Alternatively you can send a written complaint to their Berkshire head office by using the postal address below, this is useful if you need to send receipts or photographic evidence in support of your claims:
Three Mobile,
Hutchison 3G UK Ltd,
Star House,
20 Grenfell Road,
Maidenhead,
Berkshire,
SL6 1EH,
United Kingdom.
Three for business – 0333 338 1026
Call Three business support on their telephone contact number 0333 338 1026 to purchase handsets for your company, for billing enquiries and to notify Three of a change in ownership. Similarly if you are moving premises you should call free as quickly as possible so that they can update your account. They also offer specialist prices for wholesale purchases and large commercial companies so please call this helpline to find out if you are eligible for these rates.
Three business phone numbers
| Three for business division | Contact number |
| --- | --- |
| Business customer services | 0333 338 1026 |
| Sales | 0800 358 9083 |
Three customer service phone numbers
| Three department | Landline number | Three mobile number | International helpline |
| --- | --- | --- | --- |
| General enquiries | 0333 338 1001 | 333 | +44 7782 333 333 |
| Three mobile broadband | 0333 338 1003 | 500 | +44 7782 333 500 |
| Join Three | 0800 033 8001 | None | None |
| Head office and complaints | 01628 765 000 | None | +44 1628 765 000 |
| Three business customer services | 0333 338 1026 | None | None |
| Business sales | 0800 358 9083 | None | None |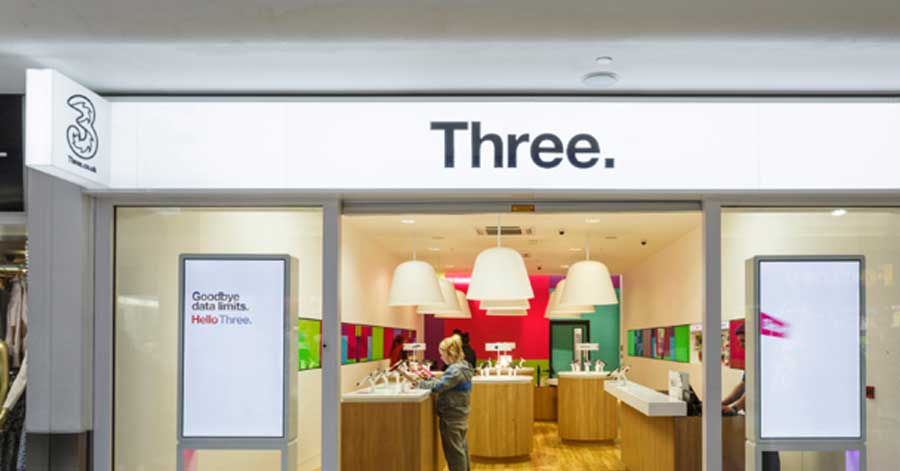 Other ways to contact Three
Three recognises that some of their customers would prefer to contact them in writing and thus they offer a range of online options including social media profiles as well as a conventional postal address. You can also use their website services to check their signal coverage in your area to find whether the network is down and to find your nearest high street store.
Write to Three
Customers who would prefer to write a letter to Three can send these to their customer service office in Glasgow by using the postal address below, please remember not to include any sensitive payment information even if you are writing in about your mobile phone bill as this could be accessed by fraudsters.
Three Customer Services,
Hutchison 3G UK Ltd,
PO Box 333,
Glasgow,
G2 9AG,
United Kingdom.
Email Three
Should you wish to email Three you can visit their support website which lists a number of options to help you message their customer service staff as quickly as possible, they also offer a live web chat service which you can use to type messages to their staff.
Signal checker and network coverage
You can use the official Three network status checker to discover if signal is down in your area which may explain problems with texting or recieving SMS messages. This is also a useful tool when moving to a new area or switching to Three as you can use it to see if the network signal is weak where you live.
Find your nearest Three store
If you would rather speak to a customer service or sales advisor in one of Three's high street stores then you can use their store locator to find your nearest shop, where you will also find their respective opening times.
Reach out to Three on social media
Three have a number of profiles on social media networks to help promote their mobile contract rates and handset deals, in return some of these are equipped with trained customer service advisors who can help you with your technical support enquiries.
Message Three through their Facebook profile

Follow Three on Twitter

Watch promotional videos on the Three YouTube channel

Find career opportunities on the Three LinkedIn page