Phone QuickQuid customer services for free on their freephone contact number 0800 056 1515 to make a payment, for late collections and for loan interest rates.
Customer services – 0800 056 1515
Contact QuickQuid customer services for free on their freephone number 0800 056 1515 for technical support when making an online loan application, to confirm whether you are eligible to borrow money and to confirm their interest rates. It is recommended that you seek financial advice prior to taking out a loan with particularly high interest rates as your property and other assets may be seized if you are unable to keep up with your repayments.
Calls to QuickQuid are free of charge from all UK landline and mobile devices, however calls from payphones may not be accepted. Lines are open from 8am-9pm Monday-Friday and 10am-6:30pm Saturday-Sunday, although please be aware that these opening hours may be reduced on bank holidays.
Make a payment – 0808 234 4561
Phone the QuickQuid collections team on their freephone contact number 0808 234 4561 to make a payment towards you loan, to fully pay off your loan early or to notify them that you are experiencing financial difficulties which are preventing you from making a repayment. Moreover you can call this helpline to make changes to your prearranged payment plan, however note that this may affect the amount you have to repay.
Complaints – 0800 016 3114
Contact QuickQuid to register a formal complaint by calling their dedicated phone number 0800 016 3114 for free where you can voice your grievance about changes to your interest rates, unfair charges and poor conduct by their customer service staff. Alternatively if you would prefer to send a letter of complaint you can post it, along with any evidence pertaining to your case, to the QuickQuid head office which is located at this London post address:
QuickQuid,
483 Green Lanes,
London,
N13 4BS,
United Kingdom.
QuickQuid contact numbers
| Department | Phone number |
| --- | --- |
| Customer services | 0800 056 1515 |
| Make a payment | 0808 234 4561 |
| Complaints | 0800 016 3114 |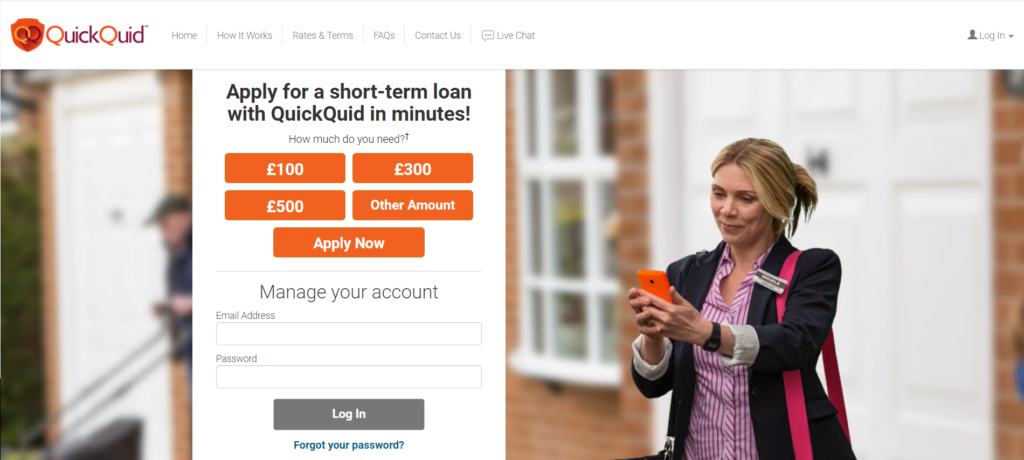 Alternative ways to contact QuickQuid
You can contact QuickQuid in writing by either sending letters to their office addresses or by writing emails to their online accounts. Moreover you can find out about changes in their interest rates and get spending tips by visiting their social media profiles.
Write to QuickQuid
You can write to QuickQuid customer services by posting letters to their office address which is provided below for your convenience. Please be aware that they do not accept payment sent to this office via cheque unless this has either been stated in your loan agreement or previously agreed by a customer service agent.
QuickQuid,
PO Box 74347,
London,
EC1P 1YZ,
United Kingdom.
Email address
If you have a general enquiry about a QuickQuid loan you can email them using their online address support@quickquid.co.uk, where you can also get information about their interest rates. Alternatively if you need to make a payment on your loan or modify your existing payment agreement you should contact the collections team via collections@quickquid.co.uk.
Connect with QuickQuid via social media
You can contact QuickQuid by messaging advisors through their range of social media profiles, where you can also view tips on how to control your spending and get updates on any changes to their interest rates. Please be aware that you should not include any personal banking details on public posts as this can be used to fraudulently access your account.
Connect with QuickQuid through Facebook

Get updates about QuickQuid via their Twitter feed

Add QuicKQuid to your circles on Google+

Get helpful spending tips through their Pinterest board

Watch advertisments through their YouTube channel

Get information about QuickQuid through their LinkedIn profile