Contact ITV viewer services on their national phone number 0344 881 4150 for news complaints, for live TV listings and for technical support when using the ITV Hub to stream catch-up programmes.
ITV viewer services – 0344 881 4150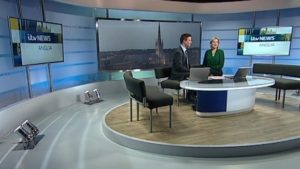 Phone ITV on their viewer services contact number 0344 881 4150 to get their live TV listings, to submit opinions for a news programme and for further details about their competitions. If you are having difficulties tuning your freeview box or satellite dish to receive their channels then you may call this helpline for troubleshooting.
Likewise you can phone this number for technical support when using the ITV Hub catch-up service to stream television programmes as well as live football matches. Please have your device and internet provider details to hand so they can resolve your issue as swiftly as possible. Furthermore you may call their customer care division to submit opinions and local news stories to their daytime programmes including Good Morning Britain and This Morning.
Viewers can contact ITV for free if they have inclusive minutes remaining on their landline or mobile tariff, otherwise you will have to pay a per-minute rate plus an access fee as set by your provider. However please be aware that you may be charged for entering their phone-in competitions even if you have free minutes on your balance. The ITV customer service helpline is open from 9am-9pm seven days a week, however these opening times are extended during shows with live televoting such the X Factor.
ITV head office – 0207 157 3000
Contact ITV on their head office phone number 0207 157 3000 to make a formal complaint about a news item or regarding inappropriate content on a programme broadcast before the 9pm watershed. Moreover if you believe you have been overcharged when using their telephone system to submit an entry for a competition or a televote then you can call this helpline to request a full refund. Alternatively you can send a complaint in writing by posting a letter to their London head office address:
ITV,
The London Television Centre,
Upper Ground,
London,
SE1 9LT,
United Kingdom.
ITV contact numbers
| ITV department | Phone number |
| --- | --- |
| Viewer services | 0344 881 4150 |
| ITV head office | 0207 157 3000 |

Further ways to contact ITV
Viewers can also contact ITV by writing to either their customer service office or their national email address. Alternatively you may wish to send them public messages via their social media profiles where you can also get further information about upcoming programmes and competitions.
Write to ITV
You can write to ITV with documents for a local news article and photographs by sending your letters to their UK postal address which is provided below. However you should note that you should call or email if you wish to submit a breaking news story as it may take them up to a week to respond to letters.
ITV Viewer Services,
Gas Street,
Birmingham,
B1 2JT,
United Kingdom.
ITV email address
Online correspondence can be sent to the ITV email address viewerservices@itv.com where you can leave feedback about a new television programme, get technical support with using the ITV Hub catch-up service and for more details about a competition.
ITV social media
ITV manages several profiles on social media website as a way of advertising their television programmes to a wider audience. In return viewers can post public messages and enter competitions through these websites, however remember not to include personal details especially bank particulars which could be used by fraudsters to access your accounts.
Check out trailers for new shows on the ITV Facebook page

Send a tweet to the ITV Twitter feed

Watch videos on the official ITV YouTube channel

Find out more about working at ITV via their LinkedIn profile