Phone 123 Reg on their customer service contact number 0345 450 2310 to purchase a web domain, to manage your hosting account and for complaints about an excessive charge on your bill.
Customer support – 0345 450 2310
Contact 123 Reg for customer service support on their UK phone number 0345 450 2310 for assistance with purchasing a web domain, to query a charge which has been applied to your invoice and to upgrade your hosting account. Furthermore you can call this helpline to enquire about their private bidding process if a particular web domain is only available under auction.
Moreover if you are unable to access your 123 Reg email account due to forgetting your username or password you may call this helpline to get this reset. Likewise Website Creator users can dial this number for assistance with their eCommerce packages which allow you to turn your website into an online store. In addition if a virus or other type of malware has been detected using a Site Scanner tool you can call this helpline for technical support.
This helpline is open 24 hours per day, seven days a week however closures will be in effect during all UK bank holidays. Calls are charged at local rates which means you can contact 123 Reg for free if you get inclusive minutes as part of your landline or mobile tariff, alternatively please refer to your network's call cost information.
Complaints – 0330 221 1007
Contact 123 Reg to make a formal complaint by calling their customer care phone number 0330 221 1007 where you can request compensation for an unfair charge applied to your invoice, excessive fees on a domain purchase or poor web hosting performance. For instance you can request a refund if your site load speeds are not as fast as originally advertised. Alternatively if you would prefer to send a letter of complaint you may post it directly to their head office which is located at this address in Hayes:
123 Reg,
HEG,
5th Floor,
The Shipping Building,
Old Vinyl Factory,
Hayes,
UB3 1HA,
United Kingdom.
Dedicated server and VPS enquiries – 0333 043 0051
Phone 123 Reg on their UK contact number for enquiries related to their dedicated server and virtual private server (VPS) packages. For instance if you are experiencing outages on your website portfolio due to server faults you may call this number for troubleshooting support.
Contact numbers for 123 Reg
| Department | Phone number |
| --- | --- |
| Customer support | 0345 450 2310 |
| Complaints | 0330 221 1007 |
| Dedicated server and VPS enquiries | 0333 043 0051 |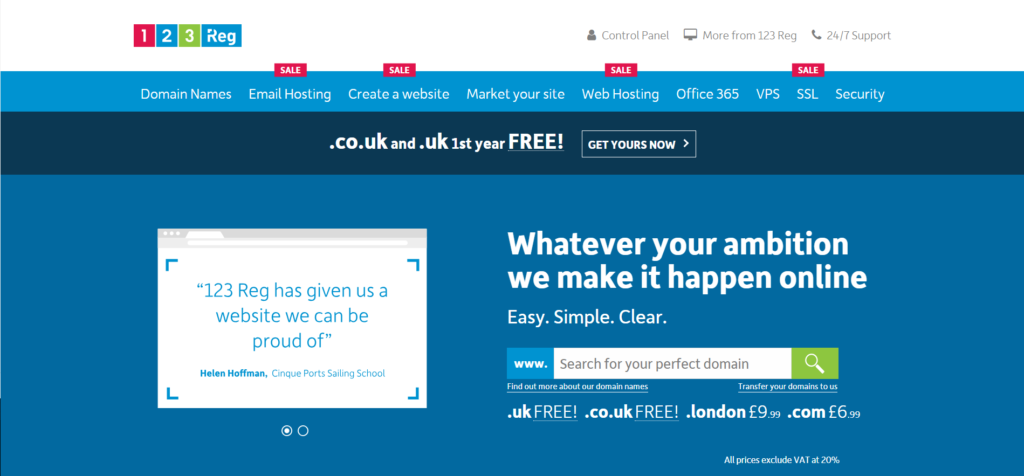 Alternative ways to contact 123 Reg
If calling their telephone helplines is not a convenient option for you then you may contact 123 Reg in writing using either their postal address or by raising a support ticket via email. Furthermore you may be able to send messages via their social media profiles, where you can also view advertisements for their range of web products.
Write to 123 Reg
Customers can write to 123 Reg by posting their correspondence and documents to their head office address provided below. Please be aware that this method of contacting the domain registrar is likely to be far slower than calling their telephone helplines, hence emergency enquiries should not be directed to this address:
123 Reg,
HEG,
5th Floor,
The Shipping Building,
Old Vinyl Factory,
Hayes,
UB3 1HA,
United Kingdom.
Email 123 Reg
If you would like to email 123 Reg you will have to raise a support ticket via their customer support website. Please note that existing customers will have to log in to their accounts so please have your details to hand.
123 Reg social media profiles
123 Reg use their various social media profiles to advertise discount rates on their web domains, upcoming auctions as well as new features for their email account users. You may also be able to message their customer service staff using these profiles, however please ensure you do not include any personal payment information in a public setting as this can be used to access your account.
Message 123 Reg via their Facebook page

Get the latest updates from 123 Reg through their Twitter feed

Add 123 Reg to your circles on Google+

Get career infromation from the 123 Reg Linkedin profile